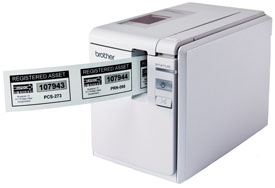 Complete barcode software and laminated label printing solution
Prints high quality, extremely durable laminated thermal transfer labels
Compatible with Windows OS & MAC computers, including Windows 7 & 8
Drop in tape cartridge design helps make media replacement simple and trouble free
Includes PT-Editor 5 professional barcode and label design/print software application
Prints high quality 360 dpi text, graphics and barcodes
Fast, host based printing up to 3.1 ips
Reliable built-in automatic cutter
USB 2.0 and RS-232C serial interface connectivity
Attractive, small footprint printer design
The PT-9700PC desktop barcode label printer prints truly laminated labels on demand, and is designed for applications that require a more permanent label. Although conventional thermal transfer printed labels are durable, fade resistant and may be used in extreme temperatures, a laminated label offers additional protection against abrasion, chemicals and moisture. Printed at 360 dpi resolution, these high quality laminated labels have a glossy clear finish that makes them ideal for serial number labels in manufacturing, parts and product identification labels in warehouse, calibration and asset management stickers in quality management, speciman identification in clinical labs, and for markings in harsh environment applications.
With an attractive industrial design and small footprint, the fast 3.1 ipsπ print speed makes this desktop thermal barcode label printer suitable for use in line for manufacturing applications. A built-in automatic cutter reliably trims the continuous label to your desirable length, one at a time or configure it to half-cut multiple labels into a strip for easy label removal.
Unlike other thermal transfer label printers, changing consumables is simple and virtually trouble-free because the PT-9700PC uses HGe and TZe tapes, true drop- in cartridges that contain all the consumables: ink ribbon, adhesive back media and lamination preloaded and ready to go no adjustments are necessary!
Although designed to be a GDI printer, fully compatible with Windows 7/8 and other Windows OS computers, the PT-9700PC can also be used with other operating systems and standalone devices like a barcode scanner, keyboard, medical or test equipment. Built around a mechanism with a long history of reliability, the PT-9700PC comes with a 2-year limited warranty and toll free customer support.
With this combination of high performance, versatility and reliability, why not experience this for yourself and see why the PT-9700PC is the best value desktop bar code and label printer for professional quality and harsh environment applications.
Hardware Features

Model Type

Industrial Desktop Label Printer

Tape Family

HGe, HG, TZe, TZ, STe, ST

Tape Sizes

3.5mm, 6mm, 9mm, 12mm, 18mm, 24mm, 36mm

Tape Length

8m (26.25')

Tape Technology

Laminated Thermal Transfer

Tape Types

High Grade, Standard & Extra-Strength Adhesive, Flexible ID, Tamper-Evident, Stencil, Iron-On Fabric, Acid Free, Non-Laminated

CD Display

None

Maximum Print Resolution

360 x 720 dpi (14 x 28 dots/mm)

Maximum Print Speed

HGe/HG Tape: Up to 3.15 ips (80 mm/sec) TZe Tape: Up to 0.78 ips (20 mm/sec)

Keyboard

None

Cutter

Automatic (Built-In) Cutter: Full-Cut mode and Crack and Peel mode

Batteries

None

Operation Mode

PC Connected (GDI Printer, Template), Connected to Host Peripheral (USB & Serial Interfaces)

Printer Emulation

Raster, ESC P, Template

Control Panel

On/Off, Feed/Cut

Power Switch

Mechanical

Power Supply

120VAC 60 Hz

AC Adapter

AD-9100ES (Included)

Handle

None

Interface

USB (1.1 or 2.0), Serial (RS-232C)

Software Features

Microsoft Word/Outlook/Excel Add-ins

Office 2000/2003/2007

Max. Print Height

1.07" (27.1 mm)

Multi-Block

Yes

Label Length Setting

0.17" - 39.37" (4.32mm - 999.99mm

Auto Incrementation

Alpha Numeric

Horizontal Alignment

Left, Center, Right Justification

Vertical Printing

Yes

Mirror Printing

Yes

Rotate Printing

Yes

Text Insert

Yes

Text Framing/Fill Pattern

Yes

Multi-copy Print

Up to 5,000 Copies

Memory

2 MB

Memory for Transferred Data (Number)

Up to 99 Template Files

Date/Time Stamp

Yes

Snapper function

Yes

Download data to unit

Yes

Built-in Designs/Templates

Downloadable

Auto Formats

Yes

Database Printing

Yes

Database File Compatibility

*.csv, *.txt, *.mdb, *.xls and Microsoft SQL Server

Internal Fonts

ESC P: Helsinki, Letter Gothic Template (Bitmap & Outline): Helsinki, Brussels, Letter Gothic

Internal Font Sizes

ESC P: 21, 28, 44, 56, 88, 120 dots Template (Bitmap): 21, 28 dots Template (Outline): 35 - 380 dots (20 sizes)

Internal Font Styles

ESC P: Bold, Italic, Underline Template: Bold, Italic, Vertical, Outline, Shadow, Outline/Shadow

Barcoding

Yes

Barcodes (Stand-alone mode)

Linear: Code39, ITF (I-2/5), EAN8, EAN13, UPC-A, UPC-E, Codabar (NW-7), Code128, GS1-128 (UCC/EAN-128), GS1 DataBar (RSS) 2-Dimensional: QR Code, PDF417, MicroPDF417, Data Matrix, Maxicode

Barcodes (connected to computer)

Linear: Code39, ITF (I-2/5), UPC-A, UPC-E, EAN8, EAN13, Codabar (NW-7), Code128, UCC/EAN128, Postnet, Laser Bar Code, ISBN-2, ISBN-5, GS1 DataBar (RSS)
2-Dimensional: PDF417, QR Code, Micro QR Code, Data Matrix, Maxicode

(PC) Connectivity

USB (1.1 or 2.0), Serial (RS-232C)

(Mac) Connectivity

USB (1.1 or 2.0)

Operating System

Windows® 8/7/XP/2000 Professional, Windows Vista®
Mac OS® 10.3.9 - 10.7.x

(PC) Available hard disk space

50 MB

(Mac) Available hard disk space

50 MB

(PC) Minimum RAM memory

512 MB

(Mac) Minimum RAM memory

128 MB

Carton Contents

Included Items

One 0.94" (24mm) x 26.2' (8m) Black on White laminated "HGe" tape, USB interface cable, P-touch Editor software and printer drivers, AC adapter, user guide

Model Details

Housing Dimensions

4.6" (116mm) x 7.6" (193mm) x 5.5" (140mm)

Housing Weight

3.5 lbs (1.57 kg)

Housing Color

White/Gray

Warranty

2-Year Depot Warranty

UPC Code

0-12502-62345-8
Includes: PT-9700PC label printer, one 1" HGe black on white tape, USB interface cable, CD-ROM with label design software, label templates and drivers & AC power cord. Plus, (2) Bonus Tapes!
Supplies:
Tape Sizes: 9/64", 1/4", 3/8", 1/2", 3/4", 1" & 1 1/2" HGe/TZe Tapes
Price:
$ 329.95